Blog
How Learning People Increased Share of Voice on the Candlefox Marketplace by 120%
---
Battling declining student motivation and confidence to study since the onset of the pandemic has been no easy feat.

Following a turbulent year, providers are focused on seeking out opportunities to stand out from the crowd and boost their student enquiry volumes.
The education market is becoming increasingly competitive. Attracting students requires providers to understand the student journey and apply strategic marketing efforts to encourage conversions. This is where the Candlefox Education Marketplace comes into play.
Our Education Marketplace helps providers, like Learning People, with their student acquisition efforts whilst improving their brand visibility. 
In January 2021, we worked alongside James Farr from Learning People, to implement the 'Subject Spotlight' solution on coursesonline.co.uk. This solution increased their 'share of voice' – the percentage share of enquiries compared to competitors in a subject area – on our Marketplace by 120%.
Meet Learning People
---
Learning People is a leading digital skill specialising in training the next generation of digital workers. Having educated over 30,000 students globally, they are on a mission to empower people – of all skill levels and across all continents – to pursue a rewarding career in technology. 
Learning People helps students start a new career or accelerate their current one with exclusive access to award-winning training programs and placements within industry.
Challenge
---
COVID-19, and the subsequent acceleration towards Industry 4.0, have resulted in technology-based skills shortages around the globe. 
Workplaces and industries are becoming increasingly digitised and automated; larger workforce percentages now prefer remote or flexible working arrangements. This means that workers, employers and governments are all quickly realising the importance of building digital capabilities. 
Technological-based skills enable workers to use emerging digital devices to create and share content, communicate and collaborate in remote teams, and access and manage online information securely.

"As we continue to scale our business and help economies fill the growing tech skills gap, we were challenged with increasing our student enquiry volumes whilst ensuring we maintained the quality," says James Farr, Paid Media Manager at Learning People. 
"We were looking for a marketing partner that could deliver high-intent student prospects which we could easily convert in-house." 
In addition, Farr wanted to ensure that the Learning People brand was front of mind to prospective students. "We wanted to make sure we not only stood out in the market but our brand was showcased in the subject areas that mattered."
How Candlefox helped
---
At Candlefox, we know the student segment. We specialise in driving traffic from active student prospects to our subject pages and convert high-intent student prospects into enquiries for our clients. 
Our Education Marketplace – a network of global websites including CoursesOnline – enables education providers to expand their student enquiry volumes whilst improving their brand discoverability.
To increase Learning People's brand visibility within the student segment, we implemented the 'Subject Spotlight' solution.
The Subject Spotlight solution gives providers a competitive edge by:
---
Boosting brand visibility and improving brand recall
Building subject level ownership and credibility
Increasing brand impressions, course views and share of voice
Funneling student prospects to a list of the provider's available courses
Our subject pages are the most valuable real estate on our Marketplace, drawing the highest volume of traffic on our network. In addition, these pages receive over 150,000 monthly visits from students further down the enrolment funnel – students that demonstrate higher intent to enquire.
After an initial discovery call with Learning People, we executed a two-part Subject Spotlight solution.
---
A 'Featured Provider' showcase that built Learning People's brand presence and reputation in the project management subject area.
---
A 'Top Spot Provider' placement that ranked their 'PRINCE2 Full Collection' course as the top result on the project management subject page.
---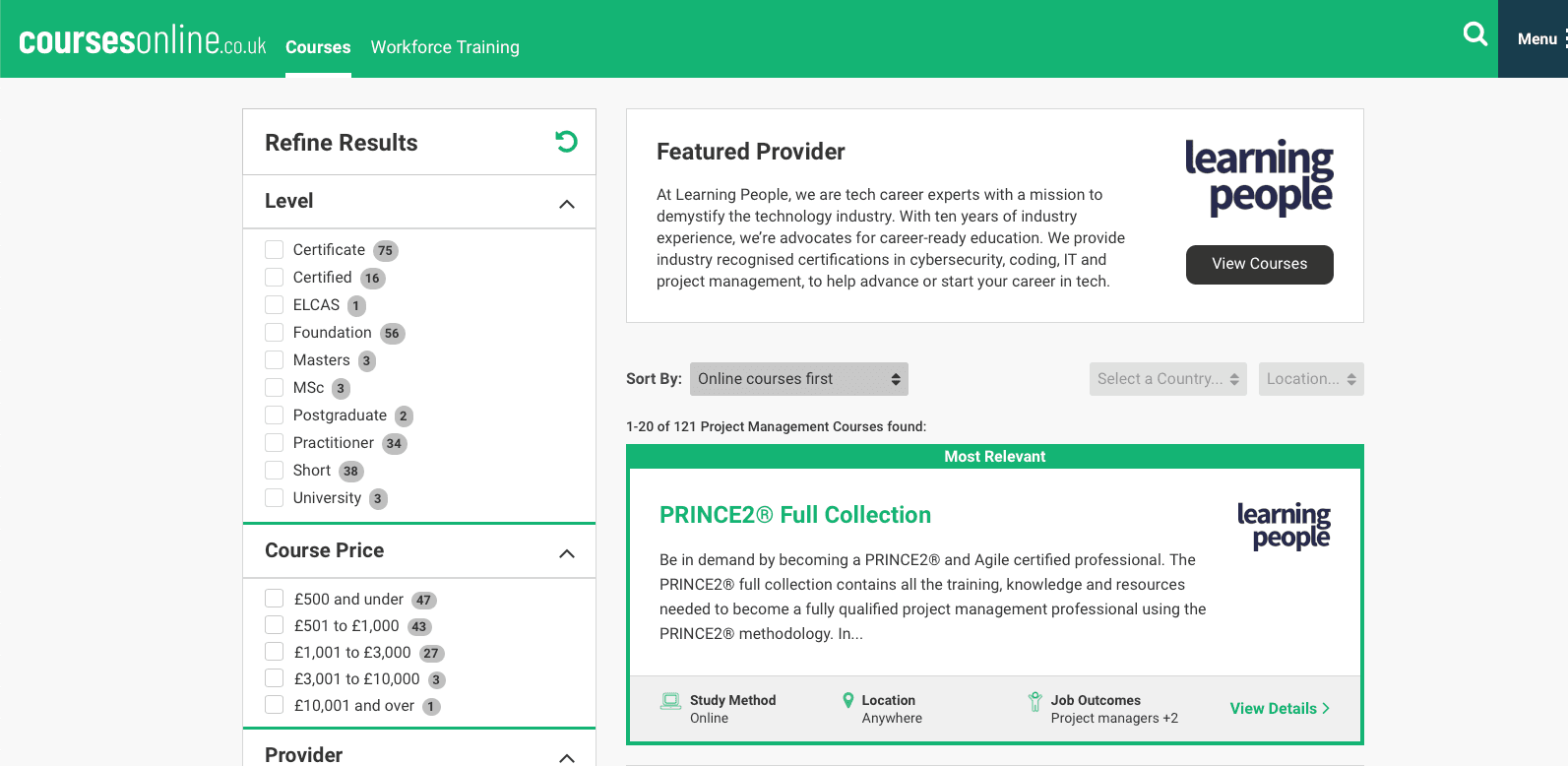 Through our Subject Spotlight solution, Learning People received the exclusive top placement on the project management subject page. As seen in the image above, Learning People's Prince2 Full Collection also secured the 'Top Result' placement. Top Spot or Top Result placements provide the most value for providers – our data indicates that a high percentage of enquiries originate from top ranked course listings. 
By sponsoring the Subject Spotlight solution on our network, Learning People were able to showcase their brand more prominently to project management student prospects and attract a higher volume of enquiries than their competitors.
Results
---
Since January 2021, Learning People has invested in the Subject Spotlight solution for the project management category on our Marketplace. 
Our Marketplace enabled Learning People to attract and connect with a larger cohort of students. Since its implementation, Learning People have achieved some stellar results.
Comparing December 2020 to February 2021, they have seen:
---
544% increase in impressions
636% increase in course views
120% growth in share of voice
These results are predicted to grow. Learning People will continue to reap the benefits of the Featured Provider and Top Spot solutions. 
Farr has been impressed with the impact of the Subject Spotlight solution on their performance on the Marketplace.
"We have seen positive results from the Subject Spotlight solution. We see the Candlefox team as an extension of our marketing team. We believe in their business model and have great confidence in our relationship with them," says Farr.
Looking ahead, Farr said: "We would like to explore further optimisations to our listings on the Marketplace to ensure we're providing existing and prospective students with the best experience possible."
Discover a solution that delivers a seamless customer experience and nurtures your prospects in every stage of the student journey.
Find out how you can get your courses onto the Candlefox Marketplace.