Blog
2021 Australian Education and Training Awards Finalists Announced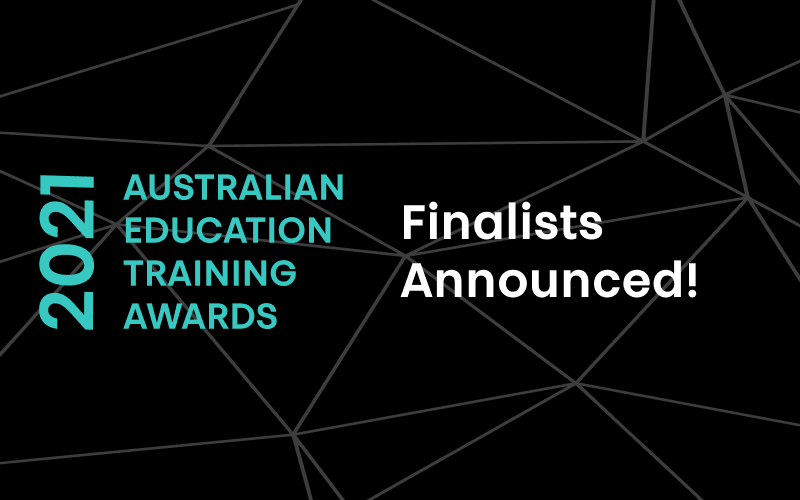 ---
Celebrating our inaugural year, the 2021 Australian Education and Training Awards showcases a selection of high-performing educational institutions, who are making an impact in our vocational education and training (VET) sector.
As the host of the awards, we are proud to have received an overwhelming number of nominations from standout organisations across Australia. The high calibre of nominations is a testament to the exceptional talent within our education sector. 
This year's awards will showcase 12 finalists across our four award categories:
---
Excellence in Learner Experience
Excellence in Curriculum Design and Innovation
Trailblazer (Registered Training Organisation of the Year)
Trailblazer (Training Organisation of the Year)
While winning an award is an exciting achievement, we commend all organisations who have been nominated or shortlisted. Selection as a finalist or nominee in this award program is a massive milestone itself, and we recognise and celebrate your ongoing commitment, resilience and innovation to our VET sector.
The 2021 Awards will be held virtually on Thursday 25 November, where award winners will be announced. In addition to this, our special co-host, Claire Field, will deliver an exclusive keynote on the state of education and training in Australia. 
We invite all finalists, nominees, and industry to tune in to this vibrant presentation, details below. 
Date: Thursday 25 November 2021
Time: 5:00pm AEDT
Where: Watch the event online at the Australian Education and Training Awards website
---
Meet the 2021 finalists!